Why join a monthly e liquid subscription service when you already know whose juice you like best? If VaporFi e juice is your preferred nicotine potion, then you don't have to join some other company's plan to find new juices. Join the VaporFi Blend of the Month Club. Here are some details.
Monthly Delivery
When you sign up for membership, a delivery of new e juice arrives at your door monthly. The cost of membership is the same as a 30-ml bottle of e liquid: $14.99. Why, then, would you want to subscribe to a service where you get just one bottle and it isn't cheaper?
Surprises
With some clubs you receive several bottles of high-end juice at discounted prices, and they are often surprises. Customers don't exactly know what they are going to receive, although that is part of the fun.
The VaporFi Blend of the Month Club is a bit like this in the sense that you are never sure what will arrive, but top-shelf juices need to be discounted: they are overpriced to start with. You get some surprises and have some fun, maybe finding your all day vape in the process.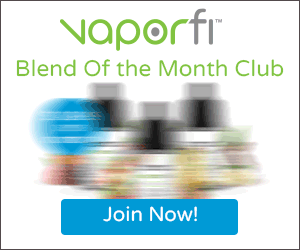 Benefits of Membership
Here are some of the reasons to sign up for VaporFi membership:
Members receive new flavors prior to their release to the general public.
Members give their feedback on these flavors which helps the company learn how to make them better if necessary.
When a flavor is chosen for release on the website menu, VaporFi also runs a contest for members to name the juice and the winner receives a prize.
Members of the Blend of the Month Club receive discounts on hardware that are not available to other shoppers. Discounts and special deals make that $14.99 membership look pretty good, while $14.99 for 30 ml was already an excellent price. Just think of all the hardware you could own: a Pro, the Pulse, a Jet e cig, the Rocket variable voltage device, or a Vox variable wattage mod, for example. You're buying e juice anyway: why not turn this to your financial advantage?
Just One a Month
When a client signs up for the program he indicates what flavors he likes: tobacco, menthol, dessert, fruit, or other flavors. This way, he is only receiving a flavor he will enjoy enough to comment about objectively. His shipment always contains just one bottle, though, so he is probably going to need another bottle or three from VaporFi during that month.
Flavors at VaporFi
The e liquid menu at VaporFi is already extensive. They blend Fresh Mint, Classic Tobacco, American Red, and Butter Pecan. My Birthday Cake, Peachy Keen, and Tropical Guava are sure to hit a sweet note with customers. White Tea and Amaretto Sunrise work well alone or together.
Official Site: http://vaporfi.com
Suggested:
www.smoking.vapingguide.org/vaporizer-reviews/vaporfi-vox-50-mod